When It Comes To Reliability, We Are The One You Need!
Start with Free Site Survey & Electricity Bill Analysis!
Quality Work Through Dedication
The solar PV Power generation system supplied by Resolsin are highly efficient, modular, extendable, and cost-effective power generation solution.
We offer finish arrangements that are custom-made to our client's needs and their level of the venture. Our proposals depend on an intensive comprehension of the sustainable power source market and main concern budgetary contemplations overseeing our client's speculations.
The system is designed to National and State Standards to ensure that you have years of trouble-free operations.
For commercial segment one can benefited with Acceleration Depreciation and GST input Credit.
We also have immense experience in Solar Carports, Uplifted and Ground Mount Plants, Off-Grid and Hybrid home solar solutions.
We use world class Solar Modules manufactured in India under Make in India for Subsidy Projects. Also we use international brands for Non-Subsidy projects
Inverter or PCU is responsible for converting DC power from solar PV modules to AC power. We use brands like Fronius, Polycab, Power-One, Etc as per customer's need or demand.
As the name suggests DCDB or array junction is an safety device for DC side with SPD and Fuses. ACDB is also act as an safety device for the AC side with AC SPD and MCB.
We are using renowned branded DC wiring for Solar Power Plant, which gives our customer sense of satisfaction and build confidence in us.
We use chemical earthing as per electrical safety standards. Number of earthing depends on the plant capacity. As a standard product we use galvanized earthing electrode with backfil chemical.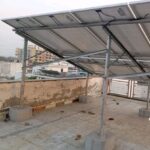 Module Mounting Structure, Civil & Electrical BOM
Hot Dipped Galvanized structure used for the module mounting & it is custom made as per the site requirements. Apart from this there will be cemented block foundations for the structure. We use anchor fastener with high gripping strength chemical for the foundations. We use high class electrical materials to ensure the quality.
We believe in a zero-carbon future. As advocates for sustainable, affordable, and greener electricity solutions, we provide a trusted one-stop-shop resource to Residential Consumers, Commercial Buildings, New Buildings, Green Building Consultants, Architects, and Contractors.
Application Based Monitoring
You can access your plant from anywhere via online mobile application.
Reduces Electricity Bills
Be a self producer of electricity and save on huge electricity bills and taxes on the same!
Installing solar panels not only helps to reduce current monthly utility bills;it might increases the Home's value
720, Sector 45, Gurgaon, Haryana.
Amritsar, Punjab