We offer finish arrangements that are custom-made to our client's needs and their level of expectations. At Resols we are trying to  revolutionize India by empowering each Indian to Generate their Own Electricity from free source of Solar Energy. We generally attempt to fabricate solar-plants on a shoestring budget, to make the underlying investment pocket-accommodating. Our hypothesis is simple – make a planet run by the sustainable.
Providing customers with the Solar Power Plants to reduce the carbon footprint since 2017!
Resols focuses on providing end to end solutions for Solar Power. One-Stop for all the Solar Power Solutions!
Commercial Rooftops/Sheds
Resols focuses on providing end to end solutions for Solar Power. One-Stop for all the Solar Power Solutions!
An effective O&M program increases the chances of a system performing at or above its expected output rate. As a result, it boosts trust in an asset's long-term performance and revenue potential.
Grid connected rooftop system, the DC power generated from solar panel is converted to AC power using power conditioning unit/Inverter and is fed to the grid via Bi-Directional/Net Meter
Off-grid solar is where you store the energy produces by panels. An off-grid system requires a battery bank to provide dedicated energy storage and power to meet your energy requirements throughout the year.
Hybrid System with Battery
The sun's energy absorbed by the solar panels goes through an hybrid inverter to create usable electricity. From there, electricity either goes to your home, to your battery, or to the grid. 
Solar energy combined with electric vehicle (EV) charging is critical to dramatically lowering our reliance on fossil fuels. Solar charging stations will be utilized to "top off" an electric car's battery, allowing the owner to return home and fully recharge the vehicle.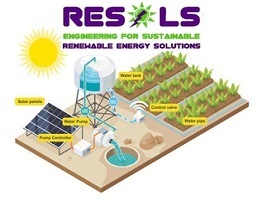 A solar water pump system is essentially an electrical pump system with one or more PhotoVoltaic (PV) panels providing the electricity.
A solar panel array drives an electric motor, which then powers a bore or surface pump in a conventional solar powered pumping system.
A standard solar street light is weather & water-resistant, has a low insect attraction rate, low glare, and has a longer lifespan.
Solar energy is converted into electrical energy by the embedded solar panel, which is stored in the built-in battery and used for dusk-to-dawn lighting operations.
720, Sector 45, Gurgaon, Haryana. 122003